The New Age of Charity Retail
Following on from our recent DBA Design Effectiveness Award win this insight piece talks about the future of face-to-face fundraising in retail environments and how to move it away from an intrusive experience that repels to a much more engaging and emotive retail journey.
Over the past decade the fundraising sector has seen a steady decline in the number of new sponsor acquisitions together with a sharp rise in cancellations. Now is the time for 'non-profits' to change their approach to face-to-face fundraising in order to avoid a 'Kodak Moment', where those who resist change will be left by the wayside whilst those that adapt and evolve will transcend to lead the new age of charity retail.
A report by The Third Sector found income from face-to-face fundraising is at its lowest level since 2009/10 [1]. Canvassing is a very competitive and busy arena, which is often seen as intrusive and can negatively impact brand equity [2].
But how to evolve? The business challenges are complex and the journey can be long but surely an increase in sponsorship acquisitions, growth of the retail channel, increased one-off donations and an uplift in sponsor retention are all part of a proposition that non-profits cannot ignore.
//////////
Feel free to continue reading the full article below or alternatively download it:
The New Age of Charity Retail (Full version, PDF, 3MB)
//////////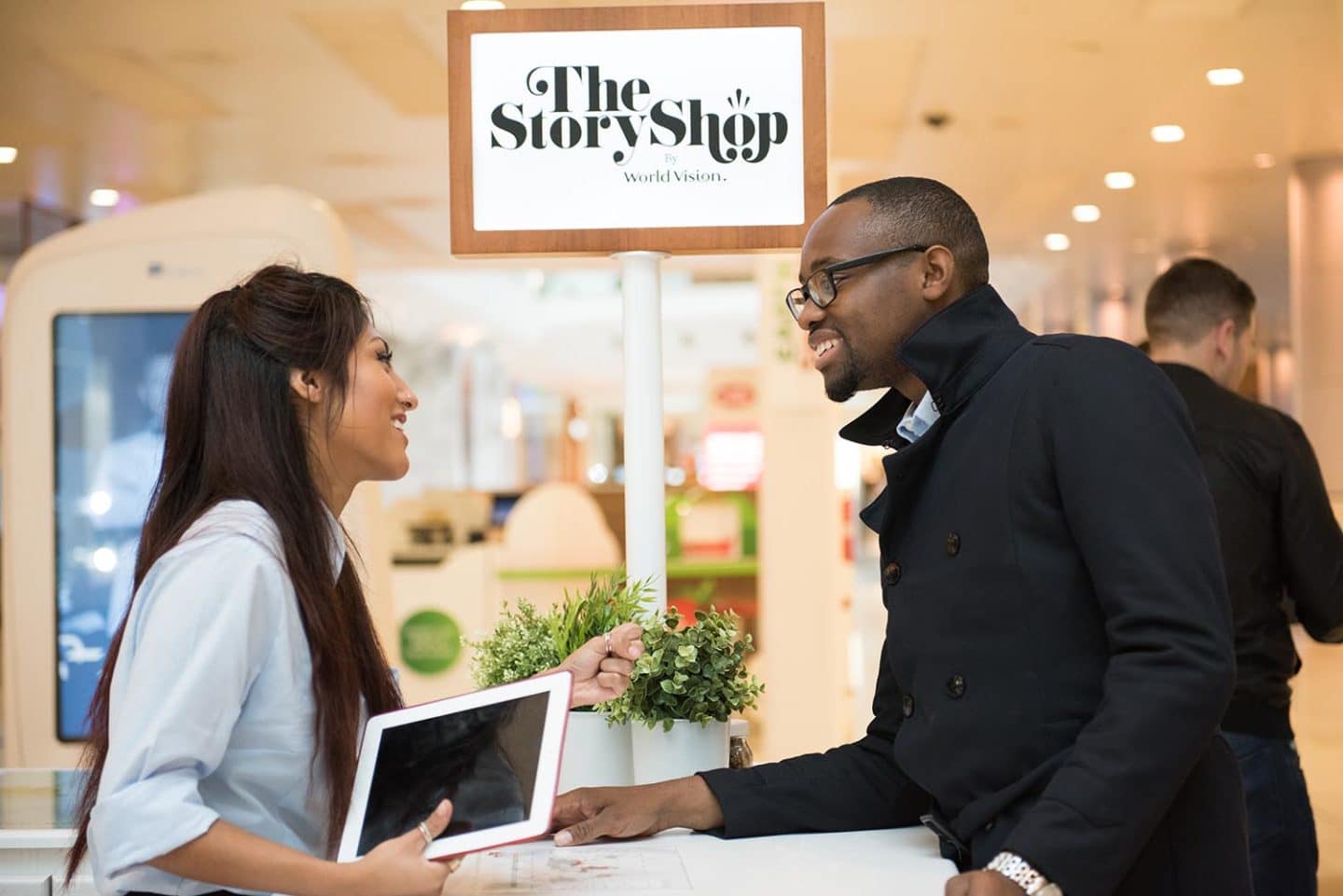 1. Donor Centric Thinking
By putting the donor at the heart of the all fundraising activity you begin to understand more than just the demographics. Demographics are dead. The post-demographic era leverages lifestyle, personality, desires and circumstance to build a much more meaningful picture of the new normal [3]. Use these insights to define what potential donors will relate to and how to access their trigger points.
2. Become A Retailer
Modern retailers do not go by the mantra 'build it and they will come'. Today, retailers have to give customers a reason to come in to store.
First, take a long, hard look at your sponsorship products. How can they be packaged up into something that represents a product in a retail format. Something that can tangibly sit on a shelf, be taken home or given as a gift.
Secondly, take time to identify high footfall areas that over-index with your identified sponsor profile such as premium shopping malls. Even established retailers have to convince landlords to give them a site, so a charity will need to work even harder to overcome the negative perceptions of the adverse effect face-to-face fundraising can have on customer shopping trips.
Thirdly, carefully consider the key messages and in store communications, they need to convey the accomplishments of the charity whilst being compelling enough to encourage sponsorship. The communications need to sit comfortably in the retail environment; they should not jar or cause offence.
If, perhaps a permanent plot is too much of a leap then embracing diversification [4] can help to improve your retail offer. For example, The Air Ambulance Trust has used a mobile pop up shop model that takes their products to the consumer. The flexibility of the new model allows them to attend targeted events where they have the right stock for a specific customer demographic; for example vintage fairs or, motorcycle shows. This method has seen them increase profit while reducing costs and overheads of running a 'permanent shop'. Specialist shops and boutiques are also becoming more common and are seen to increase profitability.
Remember, a non-profit will be competing with recognised retailers for good sites as well as shoppers' time, attention and money so the retail experience has to surpass its surroundings.
3. Experiential Marketing
Experiential marketing has been proven to help build brand awareness with 65% of brands also saying that it positively correlates with sales uplifts [5]. The aim here is to stir up an emotional connection and create a closer bond between the consumer and the brand by immersing them in a fun and memorable experience [6].
The first challenge for a non-profit is to create a unique, branded experience that will attract, engage and inform shoppers without requiring considerable effort from face-to-face fundraisers. The aim is to create an experience that provides real value to passers-by, entices them in and increases the likelihood of participation.
The second challenge is to zero in on a key message and use strong graphic visualisation to represent the impact of participating. Focus on keep communications short and concise. A recent study mapped the correlation between content length and donor disinterest, basically keep content below two paragraphs to avoid a 56% drop-off rate [7].
Obviously, a non-profit will require maximum impact for limited budget, as every penny spent means less money spent in the field. So think big idea, not necessarily big budget.
4. Embrace Technology
Research by Advanced indicates that 2017 holds a wealth of opportunities for the charity that embraces digital transformation and reimagines how it operates [8]. With this in mind, the importance of technology cannot be underestimated; it should be used to create a seamless and personalised in-store experience than can transition to online touch points.
Using mobile technology to facilitate fast and easy donations in-store would help to reduce conversion drop-off rates. Research found that in 2015, 93% of donors said they used a smartphone or tablet to make a donation to a charity. The study also identified that it isn't just Millennials that are donating using mobile technology, but all age ranges including those that are 66 and over [9].
Retailers are using the combined power of technology, big data and analytics to understand how customers shop in their physical stores. Employing technology, such as Wi-Fi analytics, can lead to insightful performance measurement in the store environment that previously has only been applicable to online operators [10]. Knowledge of the customer journey, dwell times and drop-off rates can provide business advantage indicating both the strengths and weaknesses of the retail environment.
In 2016, a report on the State of Cross Device Commerce highlights the need for a customer centric view of the shopper journey and how leveraging smart devices (both tablet and mobile) will help retailers become stronger in the multichannel environment, recognising areas of uplift and investment [11].
The UK has just leapfrogged Japan to take the top spot in the mobile share of transactions, with both countries making more transactions on mobile than desktop [11]. Given the proven propensity for the UK market to make mobile transactions, non-profits must find ways to engage and encourage donations via the mobile channel. However, even established businesses are struggling with the challenge of omnichannel retail. As the rulebook is not yet written the playing field is wide open for non-profits to innovate and help shape the future.
New Age of Charity Retail Case Study: World Vision UK, The Story Shop
World Vision UK repositioned sponsor acquisitions away from the mass market and focused on a specific post-demographic consumer with a proven high lifetime value.
Research revealed that premium shopping centres over-index with the desired target market. However, World Vision UK was refused entry to high-end mega malls due to landlord's negative perception of charities conducting traditional face-to-face fundraising in their prestigious retail environments and the adverse effect it would have on customer shopping trips.
The Story Shop was designed as a mid-mall retail kiosk that would resonate deeply with the identified consumer. The Story Shop has proved that a premium retail channel can raise substantial sponsorship income and gain traction with the desired target market when teamed with an engaging customer experience.
Adopting a creative, retail minded approach has moved traditional to face-to-face fundraising from an intrusive experience that repels, to an enjoyable, immersive, technology driven, retail led experience that potential sponsors openly choose to engage with.
Results:
– Securing 4 high value sites in premium malls
– 29% growth of the World Vision UK retail channel
– 5% uplift in the conversion to retention of new supporters
– 65% above target for Child Sponsorship acquisitions
– 316% increase in one off donations
"The strategic approach to the project, deeply understanding the consumer and articulating that in the experience map completely blew us away! That's the bit that step changed this project."
Steve Wood, Director of Marketing & Comms, World Vision UK
Our recent project with World Vision UK has improved ROI for the business as well as won numerous accolades. Most recently The Story Shop won a Design Effectiveness Award. Run by the Design Business Association [12], these prestigious awards recognise impactful, wide-ranging examples of design that have had a tangible and measurable impact upon business success. The awards provide powerful evidence that design thinking combined with business acuity can bring about the right conditions for business transformation to occur
---