PROTEIN HAUS: Leveraging a Millennial movement to create a £2M business
The global health and wellbeing market is estimated to grow to $737 billion by 2018 [1]. This substantial growth will be driven primarily by preventive health and wellness categories such as vitamins, nutrition, weight management and fortified foods and beverages – fueled by demand from health focused consumers and the growing wealth of emerging market consumers [2].
More than ever before, health options are becoming main stream and as time becomes an ever increasingly precious resource, our multitasking lifestyles are propelling a need for short-cut solutions that are still fresh, nutritious and customizable. In 2017, the time spent on (or saved by) a food or drink product will become a clear selling point [3].
Millennials are a very proactive group of individuals who value their health. Relative to the amount of money they make, Millennials spend the highest percentage of their income on health and wellness [4].
The Millennial generation makes up a quarter of the UK population and predicted to hit the 17 million mark by 2019 [5]. It is the largest generation in US history and as they reach their prime working and spending years, their impact on the economy is going to be huge [6]. With this in mind any exploration into the health food market is likely to be a successful one.
Such as the case in point with fitness food start up; PROTEIN HAUS, retailing on the go protein shakes, fitness food and juices.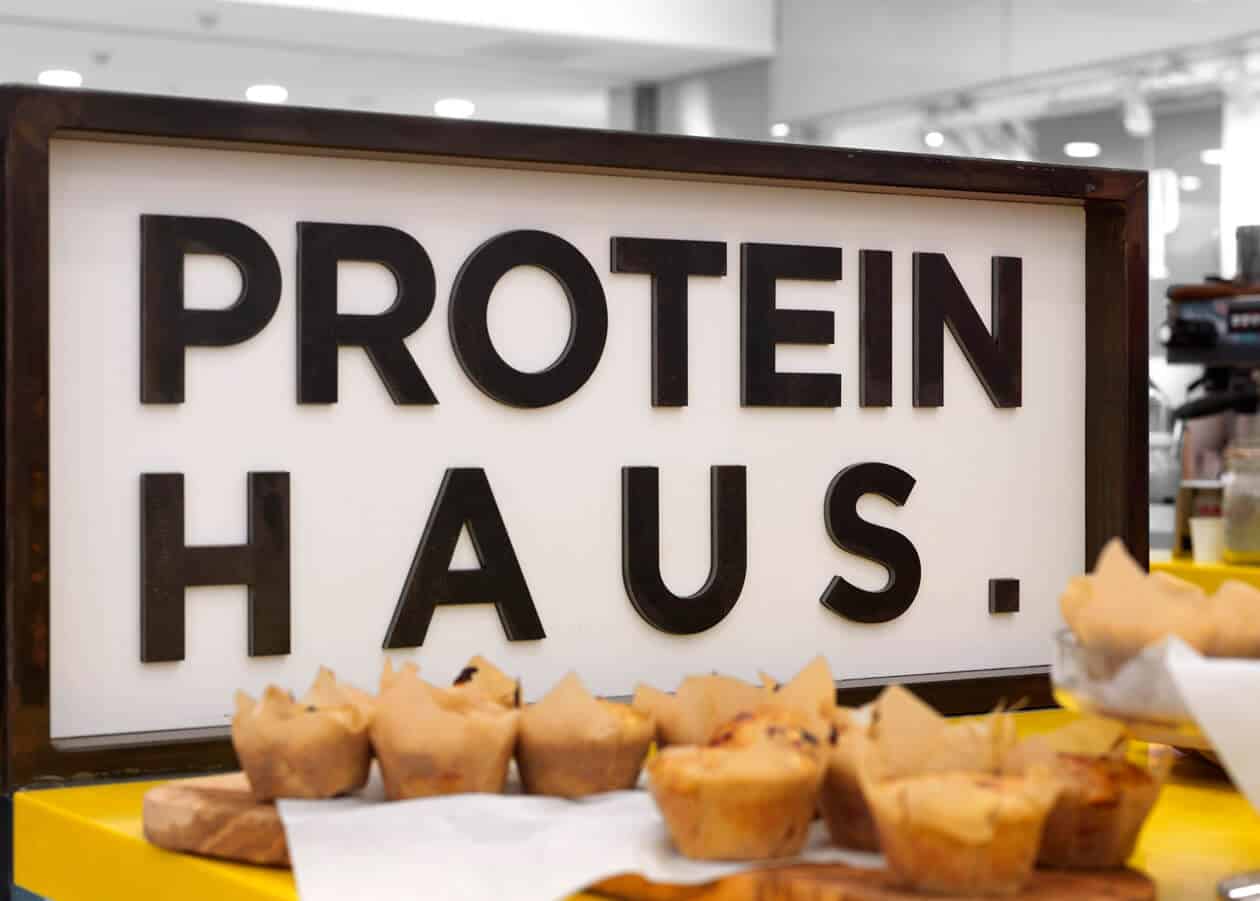 Feel free to continue reading the full case study below or alternatively download it:
PROTEIN HAUS: Leveraging a Millennial movement (Full version, PDF, 2.1MB)
//////////
Grown from a dream held by personal trainer, Carli Wheatly, into a 2.1M turnover business in one year by leveraging the Millennial health trend for complete nutrition delivered in convenient retail formats.
By teaming up with multi-award winning retail design consultancy, The Yard Creative, Carli was able to put the wheels in motion for her big idea to attract Millennials with active lifestyles, already deeply engaged with their health in order to elevate them to their next level of fitness.
With high visions, the brief was simple; create a brand that stands out in the health food and juice market whilst also providing a platform to educate health conscious customers that there is never just one way. Although the extreme health nutrition product line was essentially curated, the rest of the brand was a blank canvas.
The retail design team worked closely with the client to identify the brand's values, vision and ethics. All brand assets including the name, logo mark, retail kiosk interior design, graphic communication design, menus, web site, photo shoots, packaging, uniform and social media platforms were created. From the initial project kick off briefing to the first day of trading at the Canary Wharf kiosk was just five months.
This unique F&B offer was designed to be attention grabbing, to stand out in the highly competitive market of Canary Wharf and operationally efficient in order to serve time starved customers.
The first year trading results on the Canary Wharf kiosk unit have been astronomical. PROTEIN HAUS is one of the highest grossing turnover units in the whole of Canary Wharf. Serving 1,350 customers per day and turning over £2.1M (£40k per week) in the first year of trading.
The brand also gained huge traction online with 18.3k followers on Instagram as well as some very desirable brand partnerships with companies like Nike, 1 Rebel and GymBox.
Incorporated in June 2015, PROTEIN HAUS was trading from four central London locations by Q1 of 2017.
PROTEIN HAUS has changed the F&B sector by proving that convenient healthy and nutritious, fitness food delivered in a kiosk format is attractive to customers. This young brand has cemented its success by winning the prestigious Mall Retail award at the 2017 REVO Opal Awards [7] and the Design Effectiveness Award at the 2017 FAB Awards [8]. These awards recognise the critical contribution that outstanding creative work makes to building brands and showcases the best examples of commercialisation activity in the marketplace, encouraging further innovation and creativity.
Judges comments:
"Brand new product from absolute conception through to successful on mall delivery, so very innovative and also clearly a lot of creativity involved in the brand and product development."
"Impressive results, sales are clearly strong leading to upscaling the offering and expanding sites. We should all applaud new retailers with a great idea that just need to chance to be seen. Great work."
"Great first year results – you have a feeling that this could be a very big brand"
Client testimonial:
"So you have an idea for a business, you talk to anyone who will listen, your mum, your friends, but the people that can make it into a reality need to not only hear words they need to see a business come to life on paper, The Yard Creative will take all your bright and wonderful ideas that are currently sitting in your head and turn them like magic into something you can stand next to and say this is me."
Carli Wheatley, Founder, PROTEIN HAUS.
---