Our Kate designed the front cover for Time Out London, 2017 Reader Takeover and we are dead proud!
Hi, I'm Kate, a graphic designer at The Yard Creative. I work across a range of graphic projects from brand creation through to retail communications but when I'm not in the office you can often find me somewhere cosy, sketchpad and favourite pen in hand, illustrating!
Since sixth form I have always explored and practiced illustration by setting my own personal projects, however it wasn't until I began university that I started entering my work into live briefs set by industry leaders or commercial client competitions.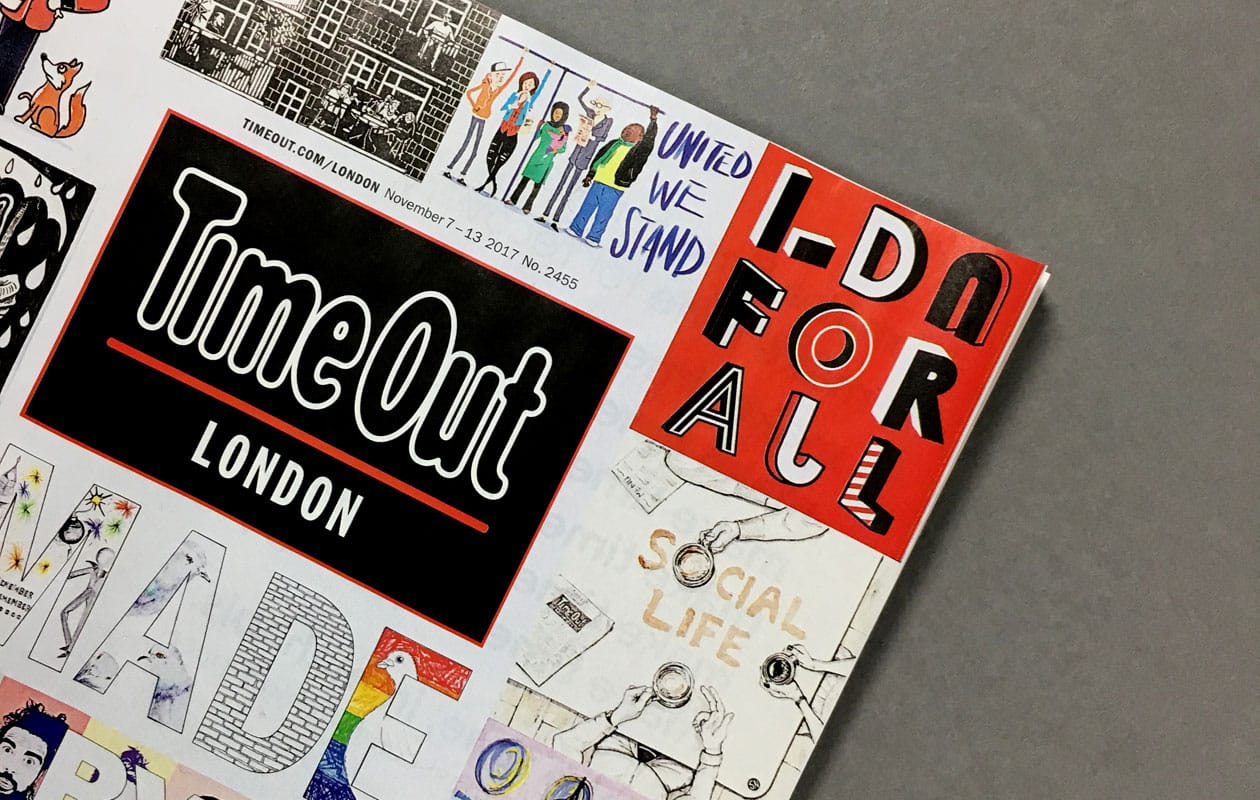 When I saw that Time Out was hosting a 2017 Reader Takeover issue I jumped at the chance to create artwork for the collaborative cover. The brief was wide open; sketch, paint, illustrate, sculpt, or use whatever your favourite medium may be to communicate a personal, unique perspective on what makes London great.
Now, I've been an avid reader and follower of Time Out when I lived in London on my year in industry and also when I previously lived in New York – now that I am a living and working in London again I wanted the opportunity to have my work featured and seen by half a million people as well as developing my illustration portfolio.
After entering in a draft concept for the magazine cover, I was fortunate enough to be chosen alongside 21 other designers to illustrate a section of the Reader Takeover cover. My entry was titled 'London For All': I love the diversity of London's suburbs and how every street and community is unique, London is for everyone to make their home. I'm the only person in my family to be classed as a 'Southern softie' and I own my Londoner status with pride!
The opportunity to work on such a quick and collaborative brief has been a great learning curve in terms of managing my time and working to a quick turnaround. After being told I was successful with my application I only had the weekend to create and submit my section ready for print which really tested my illustration skills!
Another bonus, aside from being selected, was getting the chance to visit the Time Out office in London. It was a great opportunity to see my work in context and also meet the Time Out creative team and fellow cover collaborators. Now that I have had the opportunity to have my work published it has definitely given me the push to keep practicing my illustration and submit my work more for more live briefs.
I hope you enjoy reading the issue!
Kate x
---