TYC Visits: Eytys Flagship
Eytys, the Stockholm-based brand offering gender neutral styles has now landed in Soho, London.
We were jumping at the opportunity to visit the first Eytys store in London, a gender neutral, Stockholm born and bred fashion label. Finally a brand is presenting to us the sickest of threads that aren't owned by the masses. Something that is hard to find these days.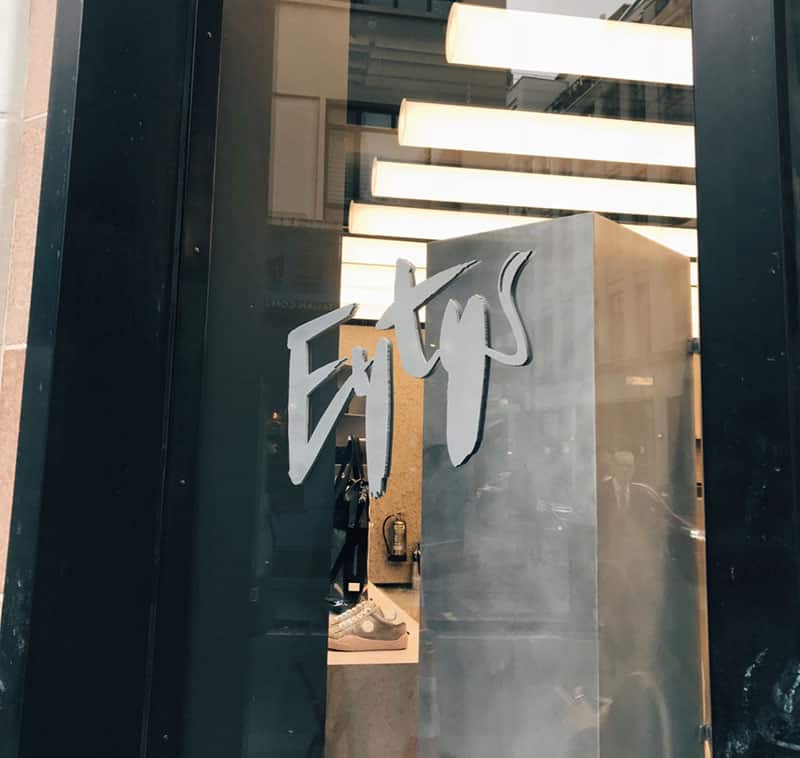 Eytys started as a footwear brand stocking just one style of sneaker, it has now expanded in to a global success. Rightly they have found their home on Brewer St, amongst other popular brands; Stüssy, Champion, Patta, Palace and much more. Soho, the place where you have to weave yourself in and out of queues of hungry shoppers waiting for the next drop – the perfect placing for Eytys whom have an edge and high sense of individualism.
The owners; Max Schiller and Jonathan Hirschfeld have a strong passion for ensuring they never have to compromise their creativity or new ideas, luckily enough for them – they design all their spaces in-house. What you see across these images has all been designed by their team and therefore reflects the brand to a T.
The slick interior consists of a monochrome and taupe colour palette, rough concrete, aluminium and Italian burl veneer. The overall vibe is influenced by Swedish 1960s Brutalism. Throughout the store is artwork from a variety of Swedish artists favoured by the founders. The store mimics a calm attitude and completely owns the Scandinavian Minimalism trend.
Floor to ceiling mirrors expand the space in to infinity, making the store appear and feel of a larger capacity than the square footage would suggest. Lighting takes inspriation from Centre Pompidou as it has similar iconic light tubes that run across the length of the ceiling. As you walk in, you're hit with a wave of inviting scent from their fragrant burners that burn continuously throughout the day.
So.. the name? Well, you pronounce it as 'Eighties' – they've used the recurring Y as it is representative of their target generation; Gen Y.
---